Early Childhood Educators Day is a day to acknowledge the valuable work of the early years' educators in educating and caring for tomorrow's leaders.
The event is held every year on the first Wednesday in September, and this year's Early Childhood Educators Day will be held throughout the nation on Wednesday, 7 September 2016.
The event is held to ensure that educators can receive well deserved recognition and appreciation for their contribution to Australia's future leaders.
We have some materials to help you celebrate. These materials include ECE Day logo, instaframes and more.
pdf Create an ECE Appreciation Wall (3.57 MB) to involve children as well as families, hold a special lunch or dinner, have a disco! Whatever you do, don't forget to say thank you to our wonderful ECEs.
Help us show Australia's Early Childhood Educators how much they are appreciated and respected for giving children a flying start in life.
Event Ideas
Early Childhood Educators Day is all about celebrating our ECEs. You can celebrate with children and parents at your service - be creative! Here are some ideas to inspire you:
Create an ECE Appreciation Wall. Click

pdf

here

(3.57 MB)

to download the templates.
Have a breakfast sausage sizzle where parents and children can get involved and have an opportunity to say thank you to the ECEs.
Have a high-tea, a BBQ or a picnic where the children serve the ECEs.
Hold a mini-show day with games and face-painting.
Have a "super heroes for super educators" themed day! You can decorate your service with super hero party decorations and have a photo booth station with super hero props!
Colour-coordinate clothes for the day. Everyone comes to work in costume!
Place a red carpet in the entrance to the service to make a "walk of fame".
Resources
The following templates have been developed to help you celebrate Early Childhood Educators Day.
image ECE Day badge for Educators - "Proud to be an Early Childhood Educator" (878 KB)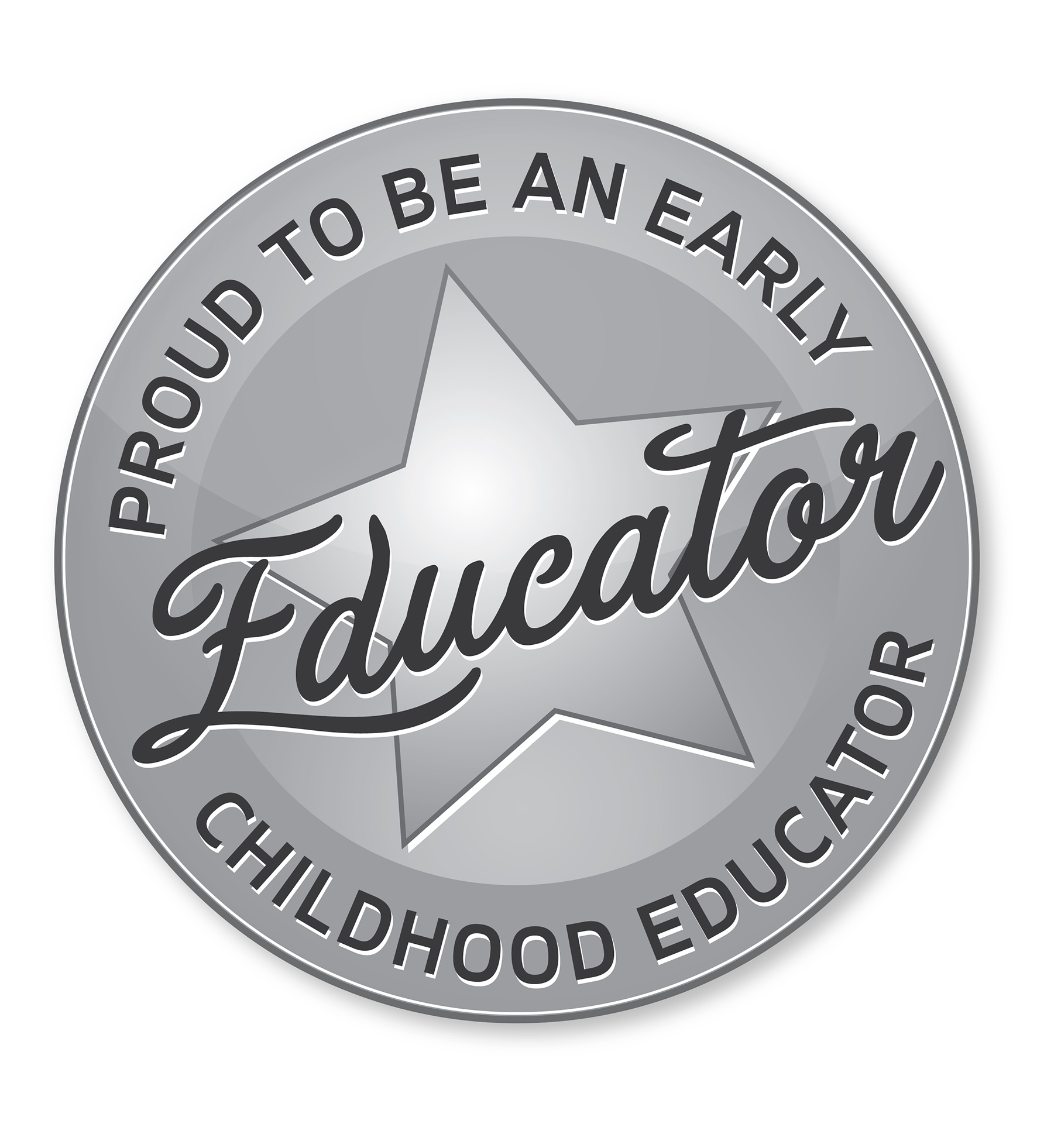 ECE Appreciation Wall kit
Create an pdf ECE Appreciation Wall (3.57 MB) . Click pdf here (1.11 MB) to see what you can do.
pdf ECE Appreciation Wall - Letter to parents (1013 KB)
pdf My favourite thing about my ECE - TEMPLATE (1.55 MB)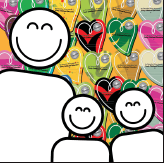 Facebook Covers
image #LoveMyECE Facebook Cover (355 KB)

ECE Day 2016 instaframes
You can share your Early Childhood Educators Day moments on your Facebook and other social media with these instaframes.
How to use 'online' instaframes: Download the frame and open it using Photoshop or your favourite photo editor. You can then paste your photo inside the frame. You might need to make some adjustments to fit your photo in the frame.
How to use 'print' instaframes: You can get the 'print' instaframe printed by your local printer and use it during your celebrations. The frame measures at 841 x 950mm.
image #LoveMyECE instaframe - for ONLINE (315 KB)
pdf #LoveMyECE instaframe - for PRINT (773 KB)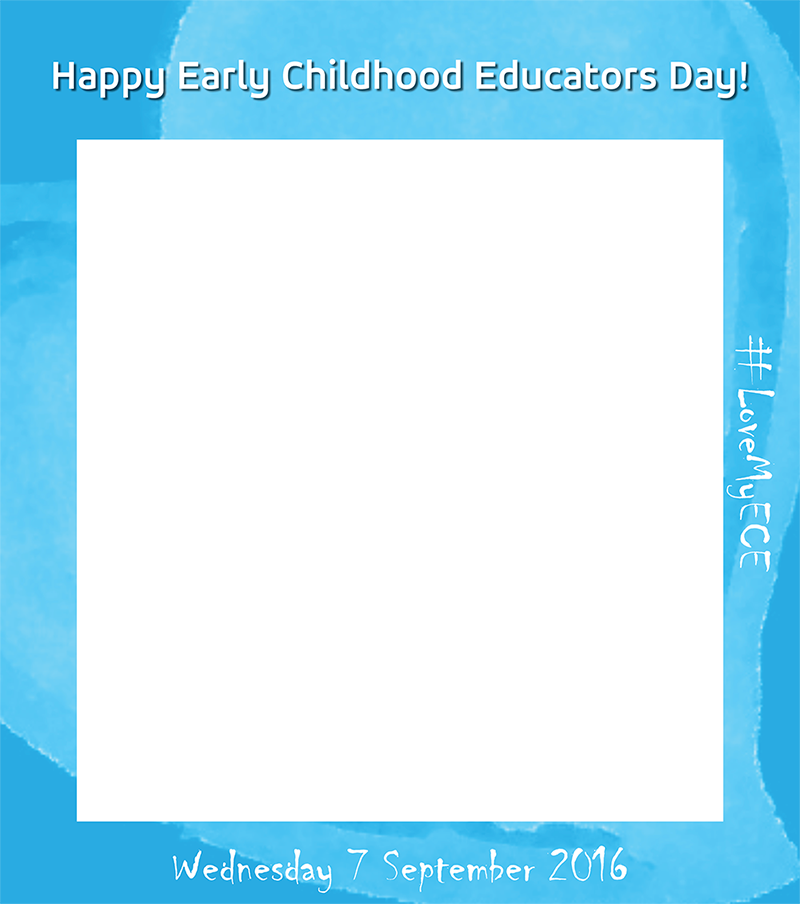 image #ProudToBeAnECE instaframe - for ONLINE (238 KB)
pdf #ProudToBeAnECE instaframe - for PRINT (729 KB)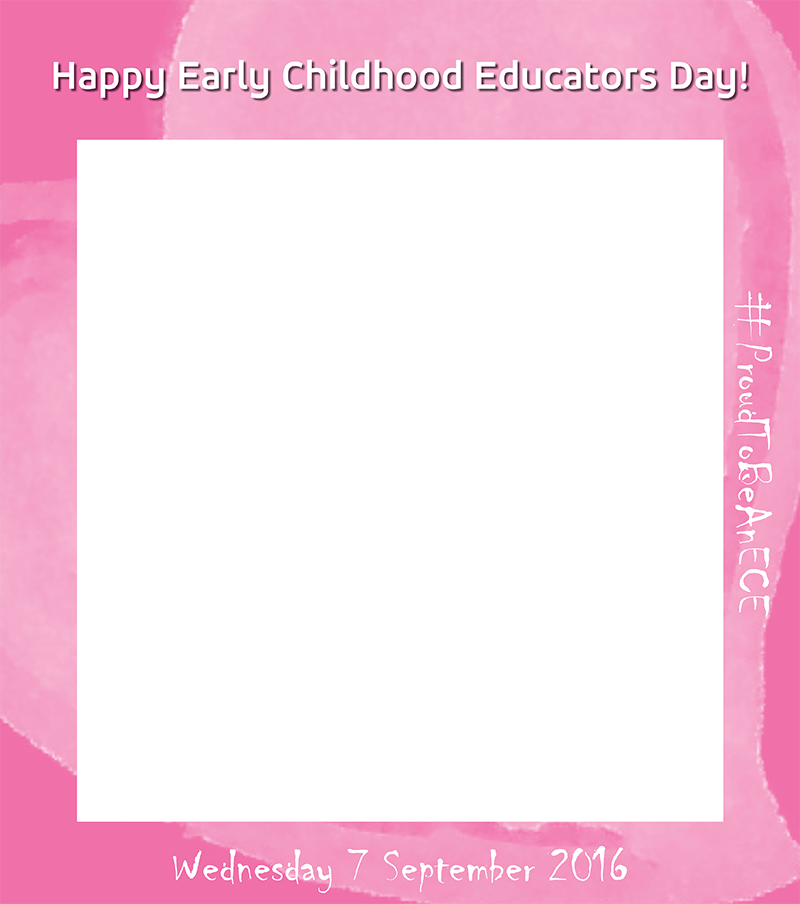 ECE Day 2016 Certificate of Appreciation
pdf Certificate of Appreciation (419 KB)